CrystaLac Brite-Tone Sanding Sealer
CrystaLac Brite-Tone Instrument finishes have been specially developed and formulated for application on musical instruments and other high end finishing projects.

Apply 2 coats of quick drying sanding sealer to establish a smooth substrate prior to application of Brite-Tone Instrument Finish.

Now available in two colors. Classic Amber is our original sealer with a slight amber color that will add a subtle warm hue to most woods and is especially suitable for darker species.

Clear Base is the same sealer without any color for minimal affect on light colored woods where the desire is to keep a fresh cut appearance.

The non-amber Clear Base is also preferred when creating custom vibrant colors using ColorFX dyes or with Mixol Pigments for a broad range of custom effects including bursts and toning.
Quick Drying
Easy Sanding
Non-Flammable
Low Odour
Water Clean-Up
Tintable with ColorFX Dyes or Mixol Pigments
Applications:
Musical Instruments
Natural or Stained Wood
Solid or Hollow Body
Pianos and Keyboards
Guitars and other Stringed Instruments
High End projects
Jewelry Boxes
Picture Frames
Decorative Work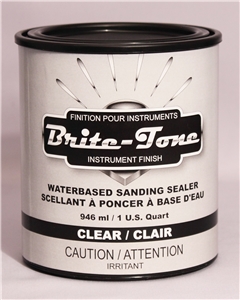 Related Products
CrystaLac Brite-Tone High Solids Top Coat & Instrument Finish. Crystal clear waterbased topcoat for instruments and high end projects.